The most underestimated data science bottleneck: data interpretation capability. 

Linking business and analytics via data consultants.

As more and more organizations are implementing analytics capabilities, many of them are in the process of setting up new analytics teams. These teams are mostly responsible for information extraction from data, often visualized through dashboarding (business intelligence).

These dashboards are, however, backward looking and are therefore located on the left side of the analytics maturity curve (descriptive and diagnostic analysis). Moving to higher analytics maturity levels in order to use data to prescribe what to do next (predictive and prescriptive analytics) is still a challenge for many teams.
Crossing the line
As reported, many organizations have difficulties in crossing the dotted line. From that moment on, mathematical models are needed.
In addition to mastering complex techniques, the specialists should also be able to make the link with the business. Often data quality is considered to be the bottleneck. In our experience however, linking the digital world back to real business operations is what is limiting the success of data science and advanced analytics the most.
A key aspect in building the right model with the right amount of detail is knowing what you are looking at when exploring big datasets. What is the process behind the generation of the data? What roles are involved and what is the general objective? Data can give a lot of valuable insights, but when interpretated wrong it can also give a lot of false information. If you are not familiar enough with the business processes behind the data you may fall into one of the following pitfalls:
Wrong assumptions
Data communicates with data scientist but communication is always subjected to assumptions. Having limited business knowledge can lead to the wrong assumptions and, as a consequence, false data interpretation.
Great in theory, less useful in practice
You have found an advanced way to recognize a certain pattern and create high quality predictions. Good! But you seem to be stuck in a lab phase because in theory it is highly accurate and interesting, but in practice the decision that is impacted is very difficult to influence.
You go down the data rabbit hole
Working with data is a lot of fun for data scientists, but experimentation is key. Keeping business aligned to discuss solutions together is only possible when explaining the solutions from a business perspective.
The solution for this?
We believe in people that combine analytics and business expertise and are motivated to translate this for the customer. We call these people our data consultants.
Advanced analytics roles
Ab Ovo always works with three types of roles:
Data Engineers are securing the loading, cleaning and labeling process and thus the overall data quality
Data scientists are editing the datasets and do the modelling based on forecasting and optimization models
Data consultants form the bridge between business and analytics and ensure that the delivered solutions add real value to the business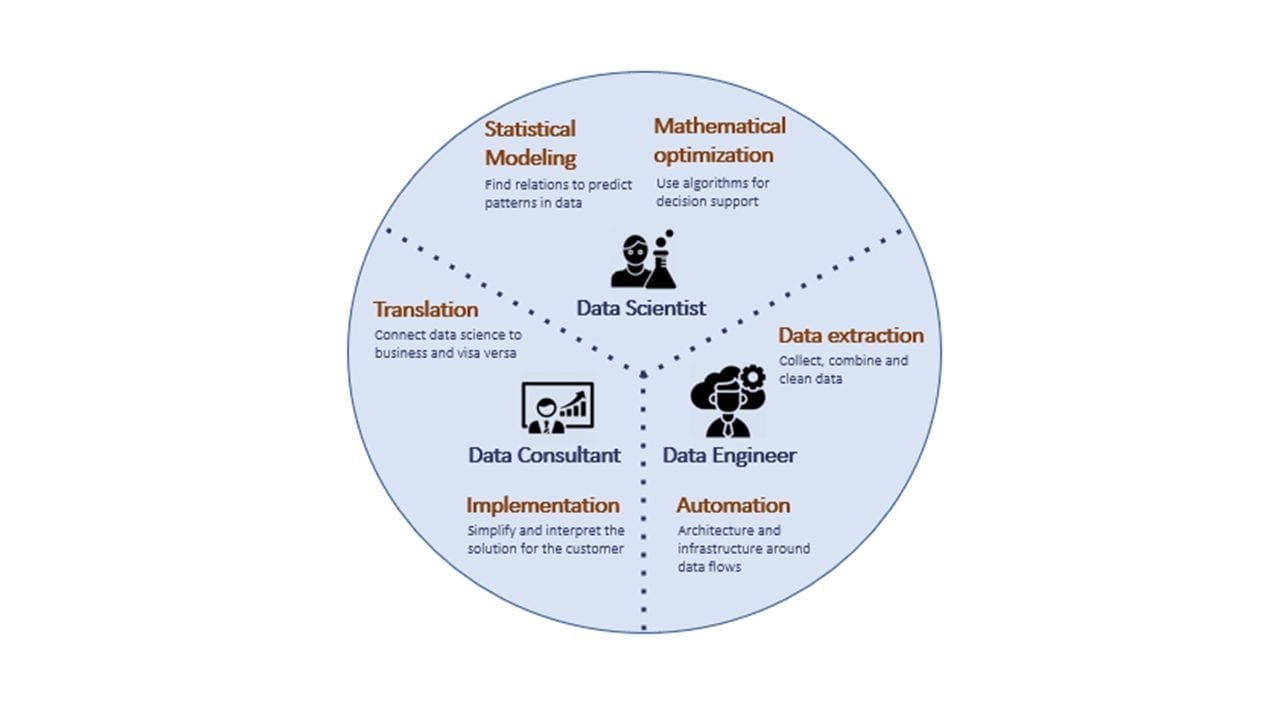 While most data science organizations have some kind of role for data consultants (analytics translators/data translators) they are often limited in numbers.
From our 80+ specialist around 35 are data consultants. They are involved in every analytics project from the start, defining both the needs and definition of success for the customer, knowing where to search for data and interpreting the data together with our data scientists and engineers.
Moreover, during development they maintain the translation to business is done at all times to make sure that what is being done is understood. During implementation they conceptualize, demonstrate and train the process owners, and benchmark that the quality of decisions has actually gone up. A crucial role in every analytics project!
Data Science at Ab Ovo
At Ab Ovo we are building on more than 20 years of delivering advanced analytics to our clients. Our customer base is mostly active in land logistics, aviation, maritime, rail and manufacturing. We focus on business first, data second. In doing so we have built up extensive knowledge of many supply chain domains.
For more information, please contact us to learn more about how to start your Data Science journey!