Written by: Ab Ovo & bisonaire
Strategic partnership to deliver seamless end-to-end planning solutions, enhancing global supply chain production optimization and sustainability
[Rotterdam, Boston, Düsseldorf, Weißenhorn, Copenhagen, Ahmedabad, 21 April 2023] – Leading industry innovators Ab Ovo and bisonaire are proud to announce a groundbreaking strategic partnership that will revolutionize the digital manufacturing industry on a global scale. This collaboration promises to deliver an end-to-end planning solution, seamlessly connecting every aspect of the supply chain flow from material purchasing to production and further to product distribution – Supply Chain Excellence at its best.
The partnership combines the strengths of both companies, empowering businesses with intelligent supply chain planning and optimization solution in both production and distribution. This alliance enables companies to achieve sustainable operational efficiency across their manufacturing, workforce, and logistics operations.
Ab Ovo and bisonaire's joint expertise offers a holistic approach to optimizing operations, taking into account both corporate financial and sustainability objectives. By utilizing a broad set of best-of-breed optimization technologies and experience, this partnership will optimize businesses' operations and provide the right level of automation to meet unique needs.
The digital manufacturing industry demands a high-service organization at scale – one with a strong focus on customer engagement and a proven track record of delivering high-quality services. This partnership brings together more than 120 DELMIA Quintiq experts, creating the largest global DELMIA Quintiq practice that excels in strategy consulting, software solution deliveries and managed services like system hosting and continuous 24/7 support.
The 3DEXPERIENCE Platform is the key foundation in this partnership, as its software products enable effective collaboration and streamlined operations – leveraging the 3DS platform solutions to move from a point solution to an end-to-end platform. In this way, we revolutionize the Manufacturing industry by leveraging the value of the 3DEXPERIENCE Platform. We look forward to driving growth and delivering innovative solutions to our customers
For more information about this transformative partnership and the cutting-edge solutions we offer, please visit
www.ab-ovo.com, www.bisonaire.com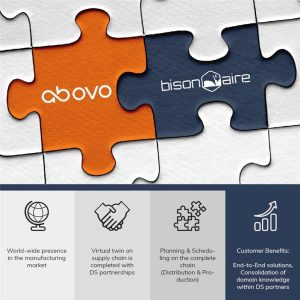 About Ab Ovo
Ab Ovo is committed to supporting supply chain and logistics companies in working more efficiently, making informed decisions, and being sustainable. Ab Ovo is a platinum partner for DELMIA Quintiq products and is a leader in the logistics industry with customers in Europe and North America. The services of Ab Ovo consist of; consulting, software development, managed services and 24/7 support. Ab Ovo offices are located in The Netherlands, Germany, Denmark and the United States of America. 
About bisonaire:
bisonaire is specialized in planning requirements in the areas of supply chain management, production, project and project portfolio management, and workforce planning. We cover all common planning levels – from strategic and tactical planning to operational planning & scheduling. With more than 20 years of experience in metals & manufacturing, we are at your disposal for all kind of planning problems.
Press contacts
Contact bisonaire: Markus Pöhler –  info@bisonaire.com
Contact Ab Ovo: Barbara Roos – barbara.roos@ab-ovo.com