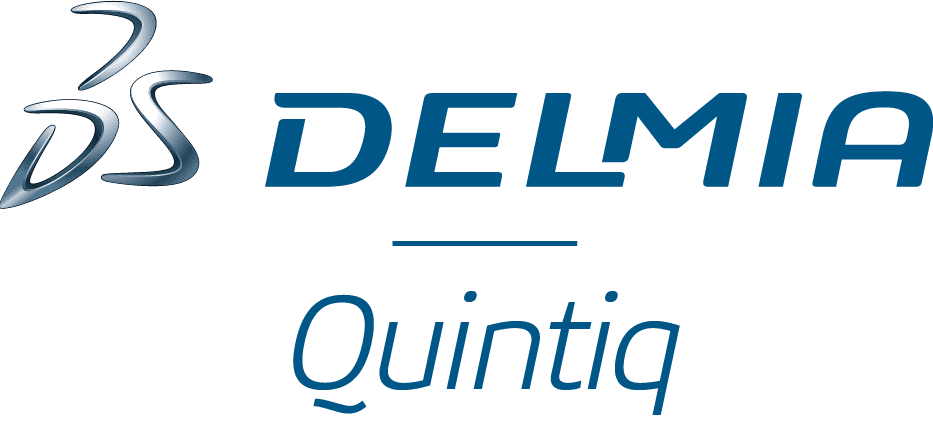 DELMIA Quintiq Supply Chain Solutions
DELMIA Quintiq is one of the leading software solutions in supply chain planning and optimization. It provides companies with end-to-end supply chain modeling solutions to align operational and business objectives, leveraging world-record-breaking optimization technology. Like all DELMIA products, DELMIA Quintiq connects the virtual and real worlds, allowing companies to create a "digital twin" of their supply chain.
Ab Ovo is as a Certified Platinum DELMIA Quintiq Partner since 1999, Ab Ovo is a one-stop center for your DELMIA Quintiq solutions. We offer advisory, deployment, optimization, testing, and support services to ensure you have the right solutions in place to maximize your value network.
Supply / Macro Planner
The DELMIA Quintiq Macro Planner is a strategic/tactical supply planning tool that enables companies to optimize their production processes over the long term and benefit from their supply chain. Macro Planner offers powerful application features, seamless integration, and an adaptable solution to support your organization's S&OP process – enabling planners make informed strategic decisions to meet business goals. Our expertise and comprehensive range of services can help to successfully implement and benefit from the DELMIA Quintiq Macro Planner at your organization.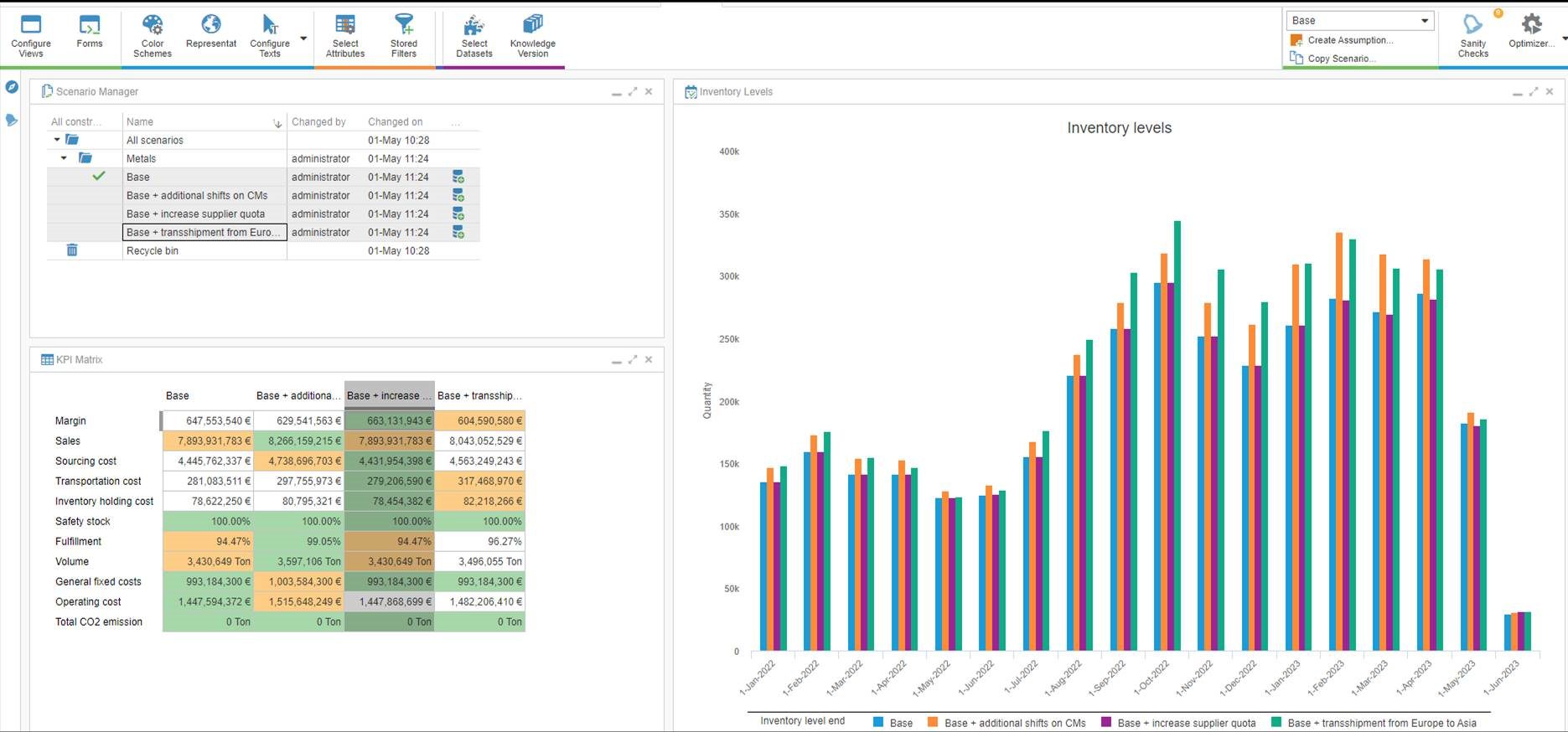 Demand Planner
The DELMIA Quintiq Demand Planner is a state-of-the-art forecasting tool that helps organizations to optimize their supply chain, analyzing historical demand and using market intelligence to generate accurate forecasting models. Using advanced planning capabilities, artificial intelligence, and customizable models, Demand Planner enables organizations to improve statistical forecasting, team collaboration, and make data-driven decisions to increase customer satisfaction while reducing operational costs.
Company Planner
The DELMIA Company Planner optimizes master production plans through efficient and precise resource planning, thus minimizing the organization's overall production costs. The Company Planner also bridges sales demand with manufacturing capacity, empowering planners to create realistic supply plans that maximize delivery performance – giving focus to top and bottom-line priorities. Planners can create and compare multiple planning scenarios to make informed planning decisions supported by key performance indicators measured against the organization's business goals.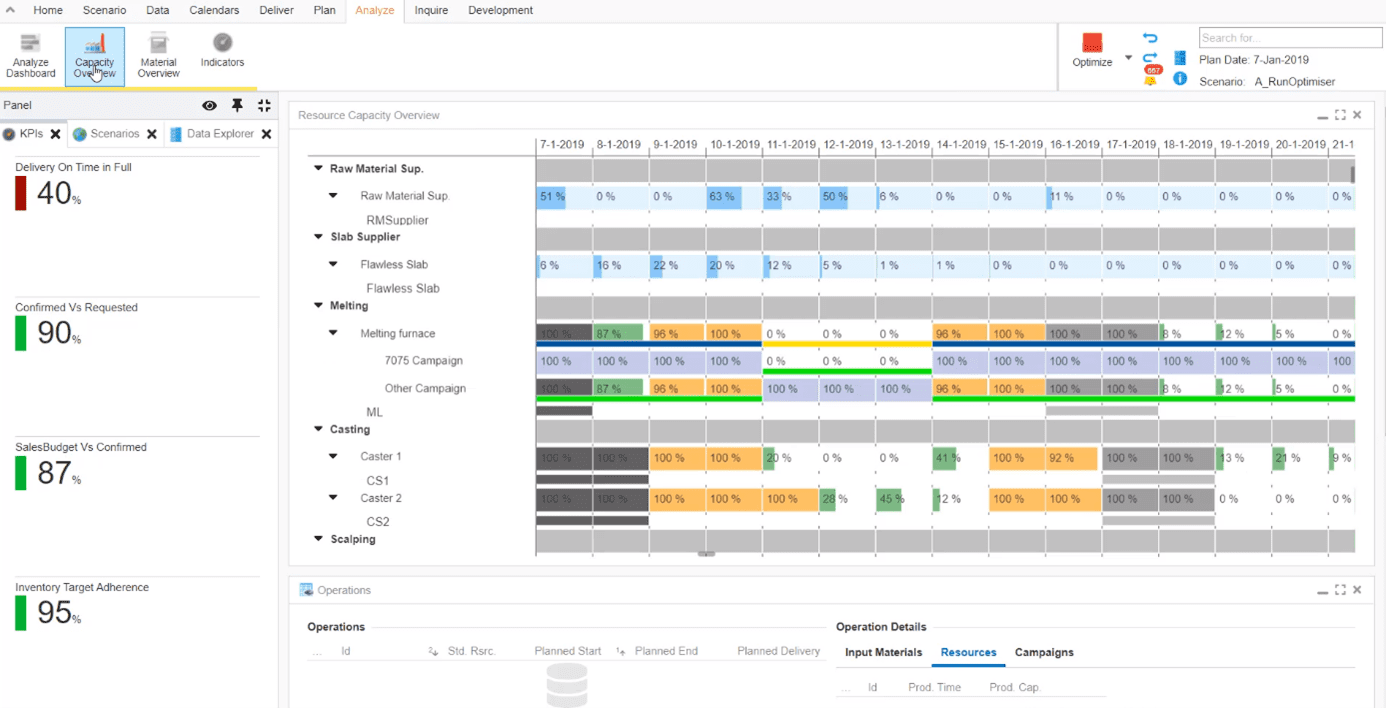 Scheduler
The DELMIA Quintiq Scheduler is a powerful software solution designed to help companies plan, schedule, and optimize their production processes to maximize production efficiency. Scheduler provides seamless integration that helps planners instantly access shop floor data, offering valuable insight and agile planning capabilities. Users can easily share planning details and performance metrics across departments to develop a single optimized plan. This increased collaboration drives significant reductions in materials and supplies inventory, works-in-process, and cycle times – leading to increased customer satisfaction and reduced costs.
Casting Scheduler
The DELMIA Quintiq Casting Scheduler is a robust planning solution specifically designed for the foundry industry, engineered to optimize production and enhance efficiency. The Casting Scheduler's advanced functions and artificial intelligence enable users to perform precision planning and effectively control foundry processes while maintaining the flexibility to react quickly to production changes.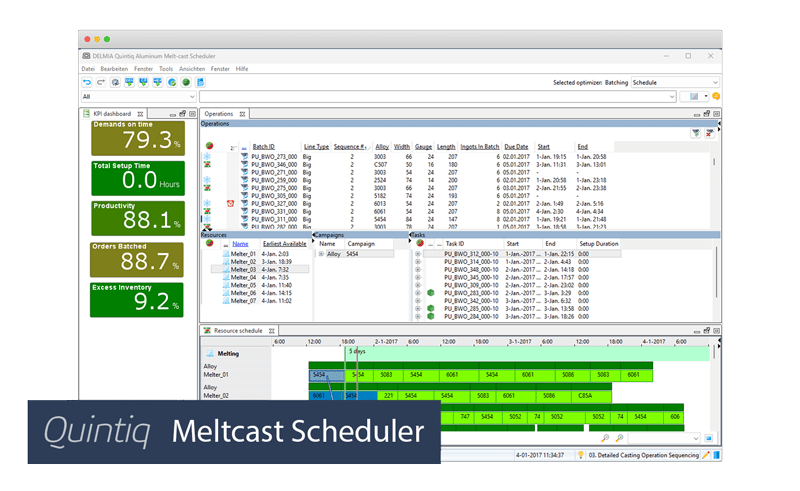 Order Combiner
As an experienced provider of supply chain solutions, we are excited to offer the DELMIA Quintiq Order Combiner. Order Combiner is an innovative solution designed to increase the efficiency and profitability of your organization. This powerful tool enables planners to identify and intelligently combine compatible orders, leading to reductions in resource utilization, material waste, and processing times. The Order Combiner gives businesses the ability to increase capacity while maintaining or improving the quality and accuracy of deliveries.
Blending Solution
The Blending solution addresses the tactical and operational challenges of casting processes for metal producers. This valuable tool empowers planners to optimize input material combinations to produce precise compositions of finished products. It allows metal manufacturers to maximize the use of scrap and recycled material in alloys, reduce the amount of pure metals needed, and lower CO2 balance. The Blending solution helps organizations to respond quickly to changes in production conditions and enables fast, KPI-controlled batch planning even under the most complex circumstances – helping to reduce the number of flushing batches in your foundry. The blending solution is based on the DELMIA Quintiq Platform and created by our partner bisonaire – www.bisonaire.com.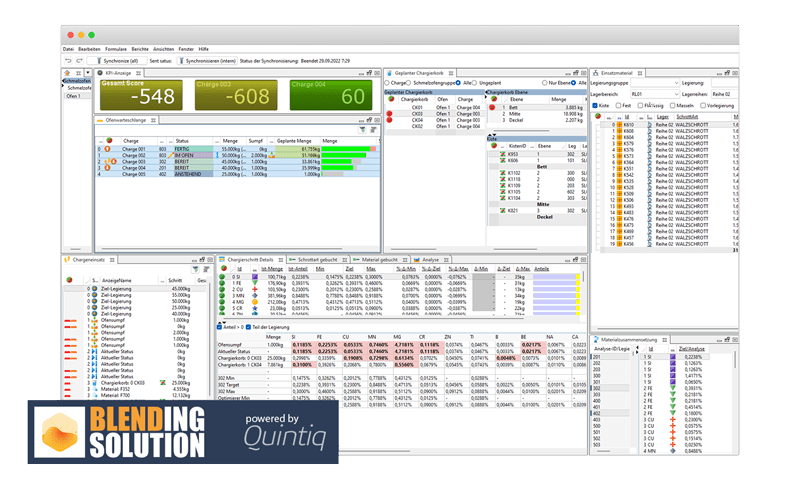 Workforce Planner
DELMIA Quintiq Workforce Planner is an innovative scheduling tool for optimizing workforce planning in enterprises. With advanced features, artificial intelligence and customizable models, the Workforce Planner enables efficient allocation of staff resources and intelligent shift planning to balance workload and increase employee satisfaction.