SmartRailCargo
SmartRailCargo
"The most efficient way of planning resources to secure your competitive edge in rail freight transport"
SmartRailCargo transforms your rail processes from a backward-looking approach to a forward-looking model, applying planning and optimization AI.
SmartRailCargo is built on the industry-leading DELMIA Quintiq platform from Dassault Systèmes. Ab Ovo has inserted 25+ years of rail cargo planning and supply chain analytics experience in a managed cloud solution for the rail cargo industry.
Key benefits – business value

SmartRailCargo uses real-time and historical data from planning and execution management systems such as your ERP as well as other data sources as inputs. With predictive analytics and algorithms, it presents users with the optimum and most efficient use of valuable resources. Whether they are drivers, ground operators, locomotives or other assets.
Optimize Planning

KPI and activity based planning to ensure efficient use of resources and decision support.

Reduce Costs
Having more information in the planning process can be leveraged to improve it. The improvements can be measured by means of parameters (KPIs) and expressed in many ways.
Improve Quality
Stronger insight into the actual process leads to a better and more feasible planning situation with less (last-minute) disruption.
Increase Revenue
Real-time traffic interface enables you to guarantee ETA to your customer and thus offer a premium service. Loading delays caused by the customer become visible in real-time enabling you to charge the extra costs to the party causing the delay.
Sustainable planning & optimization solution
SmartRailCargo is a complete planning and optimization solution with all necessary processes integrated for the next-gen cargo operator. SmartRailCargo is a Managed Software as a Service (MSaas) solution to ensure that customer value is delivered quickly while being supportive to climate neutral objectives.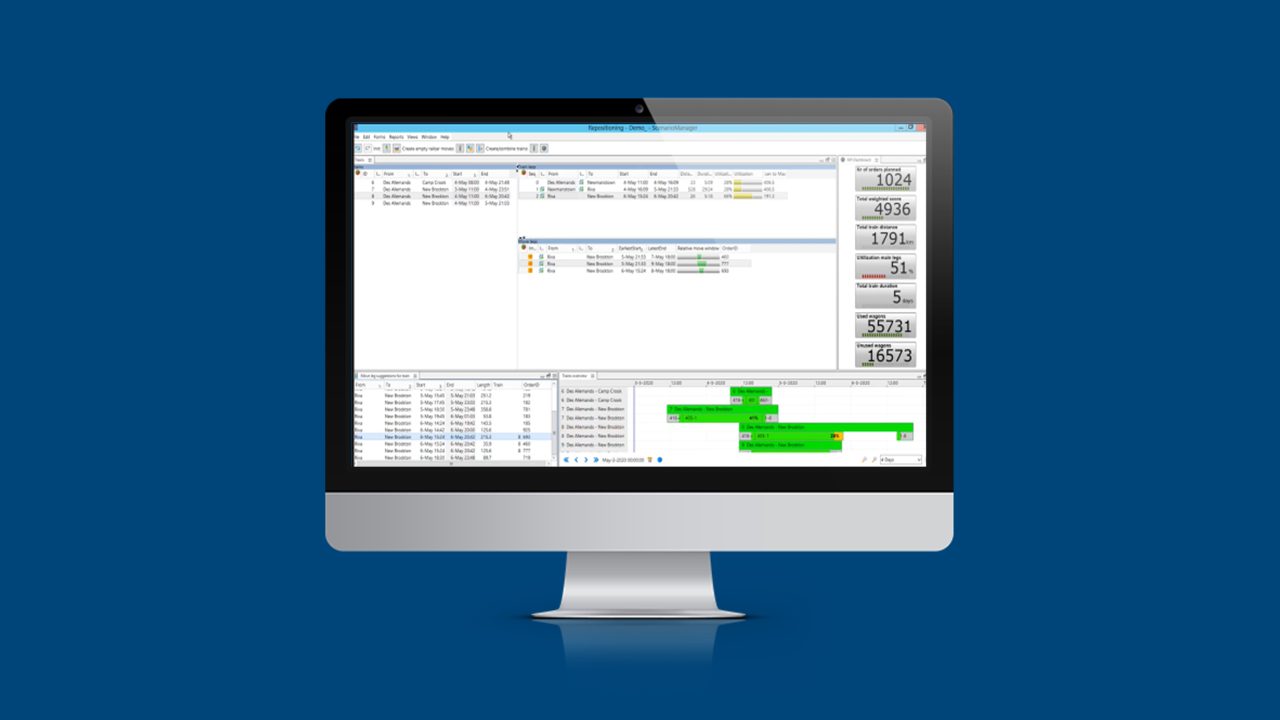 SmartRailCargo provides the most efficient use of valuable resources. Whether they are drivers, ground operators, locomotives, or other assets.
Maturity curve – planning & optimization in rail
Functional user benefits
SmartRailCargo captures all horizons of planning, rolling stock and human resources in one integrated solution. Whether the capacity planners want to plan 18 months of path reservations or the dispatchers are looking for an absent staff, they are using the same business rules and constraints.
SmartRailCargo provides functional benefits, such as:
Intuitive UI/UX – optimized visualization and user-friendly click paths
Industry standards & regulations configured
Tailored to your specific requirements
Cloud Managed Service – Always-on dedicated support by Ab Ovo
Usage based pricing model
Swiftly guided deployment + training – Go-live in weeks rather than months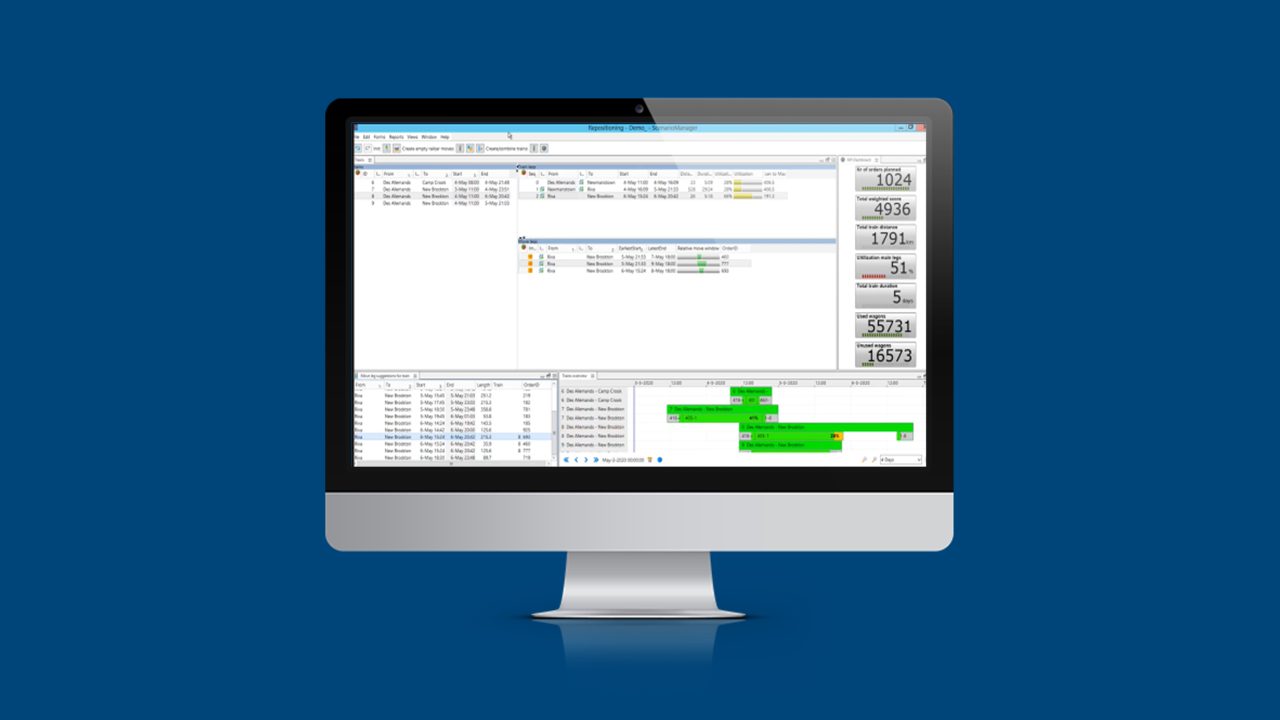 SmartRailCargo provides full support to configure the application to capture all business needs. 
A glimpse into our customer base

VR Group is a government-owned railway company and one of the most significant operators in the Finnish public transport market area.
Green Cargo is a sustainable logistics partner. Rooted in the origins of Swedish rail traffic and  Sweden's most experienced operator in rail logistics.
Lineas is the largest private rail freight operator in Europe. The company's ambition is to realise a modal shift in Europe, moving freight off the road and onto rail.
LTG Cargo is the largest freight and logistics company in the Baltic region. LTG Cargo carries more than 150 years of successful experience.
SmartRailCargo Core Capabilities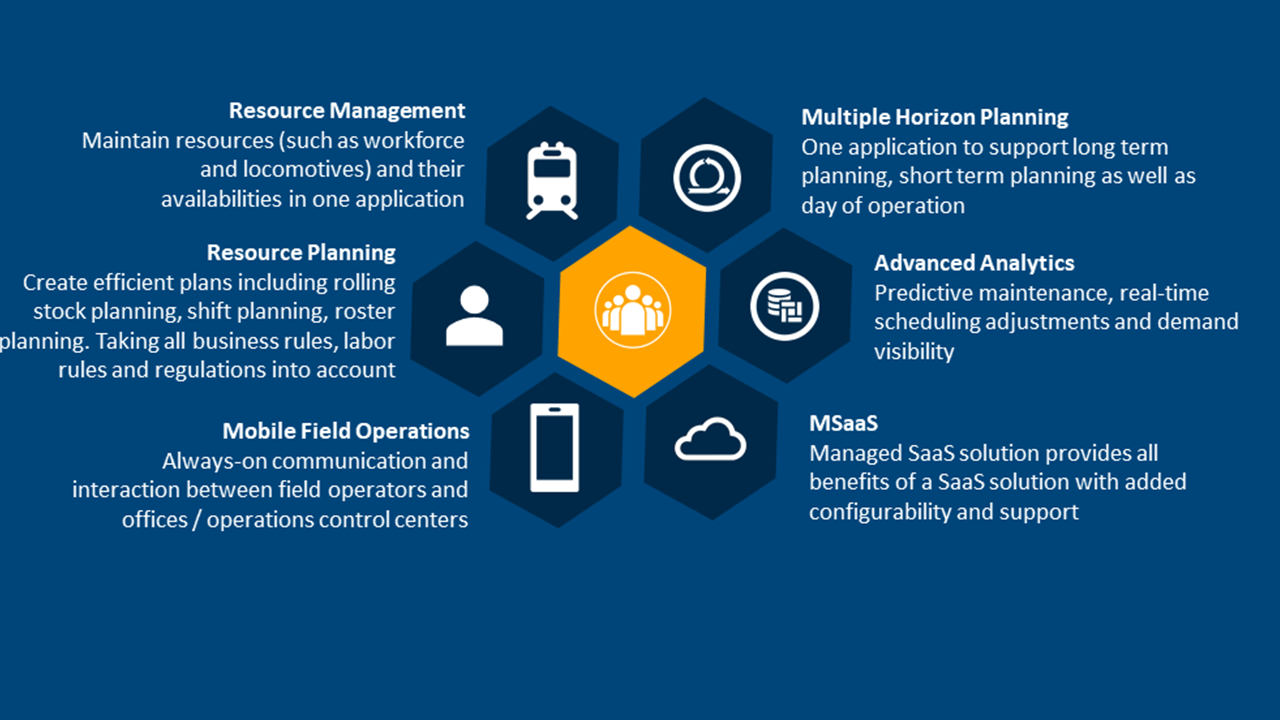 Multiple horizon planning


Long Term Planning
Long term path reservations (if applicable)
Long term train planning
Planning of rolling stock circulation
Employee shift planning
Shift assignment on rotation
Short Term Planning
Short term changes to paths
Short term train planning
Physical locomotive planning
Short term shift planning
Shift allocation
Short term transport order planning
Empty Wagon Repositioning
Day of Operation
Real-time changes to paths
Train disposition
Locomotive disposition
Disposition of workforce
Changes to transport order planning
Empty Wagon Repositioning
Integrations
ERP system
Infrastructure manager
Train management system
Locomotive management and maintenance system
HR system
And others
Resources and Combinations
Register all relevant resource types
Identify all relevant resources used for planning
Add validation rules for which resources can be planned jointly (E.g. locomotives with wagons)
Resource Characteristics
List and monitor resource characteristics 
Add validation rules to validate characteristics with locations or products
Resource
Costs
Administer resource costs e.g. per day, distance, duration
Use the resource costs in KPI based planning (visualized to the planner)
Use the resource costs for optimization in making trade-off
Resource
Analytics
Visualize resource usage (distance/time driven)
Visualize utilization
Display real-time KPIs on planning
Provide insights in KPI trends
Rolling stock planning
Make optimized locomotive plans
Plan locomotive maintenance in time-based on different metrics such as number of days, motor hours, mileage, etc.
Empty wagon repositioning to balance the wagon stocks
Real-time updates and insight in the impact of events on the plans
Request paths at Infra manager and have insight into path usage and utilization
Roster
planning
Create optimized rosters taking into account available capacity, rules, and regulations
Flexible setup to select the rules and regulations that should be applied
KPIs based planning and replanning
Decision support tools and automated solvers that help the planners take the right decision
Employee shift planning
Create shifts and maximize their utilization rates. The system guides the planner by visualizing KPIs, offering decision support functionality, and automated solvers
Take employee skills, route, location, and rolling stock knowledge into account
Take labor rules and regulations into account such as maximum shift duration, driving time, break rules, etc.
Real-time updates and insight into the impact of events on the plans

Transport order planning
Find the best routing for transport orders through your network optimizing the utilization of your trains at the same time
Planning restrictions and allotment reservations are supported, parameters can be defined per train, per customer demand, per allotment, etc.

Mobile Field Operations 
Visualize per day the shifts and their activities with all relevant information
Check in and check out
Send actual times for starting/ending activity
Switching of shifts
Locomotive driver route and equipment knowledge

Mobile
Staff Planning
Visualize week and month rosters to know when the employee needs to work or has a day off
Visualize holidays/sick leaves and holiday requests
Request holidays and leaves
Overview of worked hours

Supervisor
Operational Overview
Overview of process status
See deviations and exceptions from planning
See bottlenecks in personnel availability
See bottlenecks in equipment availability
Have access to relevant personnel data

Digital Maintenance
& Repair
Take the necessary measures with an actual visual overview of the maintenance need available at all times
Historical data of the defects helps asset management to more comprehensively track asset performance. 
Advanced analytics on maintenance and repair needs
Assets
Tailored maintenance scheduling. Pattern recognition to predict when locomotives / wagons need maintenance on a unit by unit basis
Demand
Real-time demand visibility.
Sensor and event data to visualize and analyse the flow of orders through the rail cargo network
Process
"Internet of Trains".

Advanced predictions of train ETD / ETA for real-time scheduling adjustments
Performance
Advanced dashboarding. Interactive and advanced dashboarding that allow monitoring of the data ambition

SAAS Benefits
Use cloud solution: no large hardware investments
Pay-per use pricing model
Benefit from easy implementation with a standard solution
Configurability
Configure customer specific setup
Develop customer specific processes or requirements
User Interface
Design component-based user interface
Receive standard components
Configure the look and feel of the user interface to the needs of the customer, with custom columns, forms, KPIs, charts and so on

Support
Support of the implementation
Support the day-to-day operations on the standard solution as well as the configuration
Access support easily that has knowledge of your specific business
SmartRailCargo provides training to the team of users as well as support with any questions you may have at your fingertips.
Customer satisfaction
Ab Ovo is focused on delivering customer value.  Our in depth experience and expertise ensure that our customers are delighted.  And support both during implementation and beyond is provided by our team of experts who know your business.  We continue to keep you informed about solution software roadmaps, releases and the value this brings to you and your company. If you require additional training or adaption of the solution, we are ready with our team of industry experts to assist you.
Contact us
Take the first step towards efficient use of resources to secure your competitive edge in rail freight transport.
Request a demo
No need to wait. Help your organization moving forward. Request a demo of the SmartRailCargo solution.
You may find this interesting too
Article - Green Cargo
Navigating digital transformation in rail – this company is doing it right
Newsflash - LTG Cargo
LTG Cargo partners with Ab Ovo to digitize rail freight planning system
Customer Success
We help rail cargo companies work more efficiently, make better decisions and be sustainable
Planning and Optimization AI | Advanced Analytics
Work Smart. Make Better Decisions. Be Sustainable.