Metal Industry Use Cases
PLANNING SOLUTIONS MADE FOR THE METAL INDUSTRY BASED ON THE DELMIA QUINTIQ PLATFORM
Ab Ovo offers comprehensive solutions to help you optimize your supply chain and streamline operations in the ever-changing landscape of complex metal manufacturing planning
puzzles. Our tailored approaches at each planning level ensure that you can efficiently cater to your customers' needs while simultaneously minimizing costs.
Planning levels
The Ab Ovo vision distinguishes three levels in the planning philosophy.
 1| Strategic planning
Strategic decisions (e.g., growth, consolidation, etc.) are translated into activities to obtain strategic goals, including a number of resources. This supports long-term planning, which comprises a period of six months to two years, depending on the resource types. This includes the complete Sales and Operations planning cycle as well at Demand and Supply Planning.
 2| Capacity planning
Capacity planning comprises short-term planning of resources (e.g., holiday planning, supply of goods, etc.). The time scope is approximately a week to several months.
 3| Scheduling
The scheduling of all the activities is performed up to minutes before the manufacturing time. This involves all constraints to generate an optimal plan.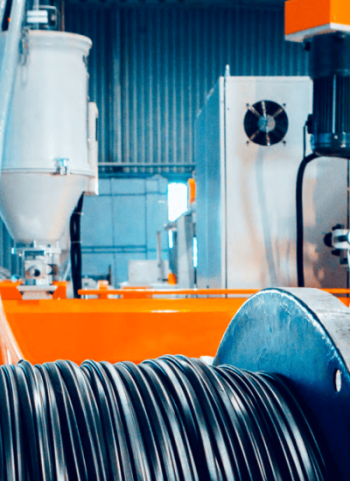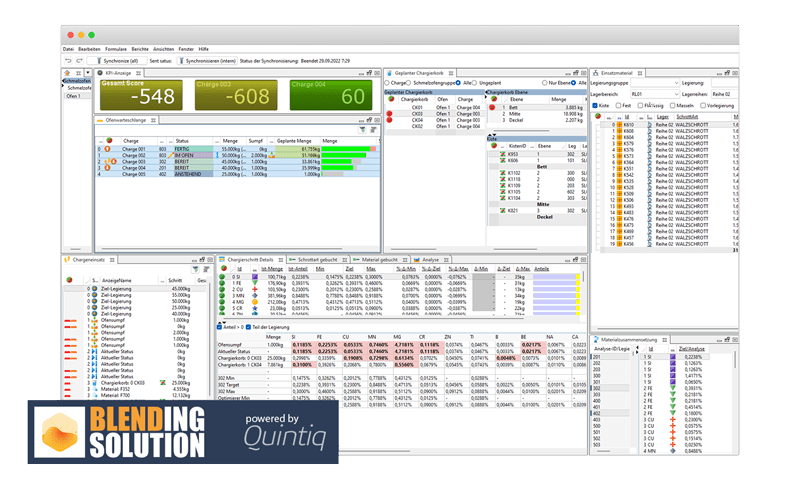 Blending Solution
The Blending solution addresses the tactical and operational challenges of casting processes for metal producers. This valuable tool empowers planners to optimize input material combinations to produce precise compositions of finished products. It allows metal manufacturers to maximize scrap and recycled material use in alloys, reduce the amount of pure metals needed, and lower CO2 balance. The Blending solution helps organizations to respond quickly to changes in production conditions and enables fast, KPI-controlled batch planning even under the most complex circumstances – helping to reduce the number of flushing batches in your foundry. The solution leverages advanced technologies such as supply chain analytics, artificial intelligence, and real-time tracking systems to enhance visibility, decision-making, and overall supply chain performance. The blending solution is based on the DELMIA Quintiq Platform and created by our partner bisonaire – www.bisonaire.com.
S&OP Planning
Many metals companies possess an S&OP process, yet few wield an appropriate solution to back it. Even fewer boast a consistent, repeatable workflow empowered by a robust engine for optimized plan creation. From work order coordination and order combinations to timely, cost-effective delivery in specific locations, DELMIA Quintiq's S&OP equips your business to enhance performance, outpace rivals, and maximize profits. This solution harmonizes demand and supply, pinpointing ideal inventory targets and providing swift scenario planning.
Concerning supply chain planning, DELMIA Quintiq S&OP factors in rules, financial limits, and KPIs to model your supply chain, generating optimal plans that prioritize financials for minimal costs and maximal revenue. Furthermore, the solution supports KPI-centric planning, allowing users to gauge the effects of each planning decision on delivery, inventory and customer satisfaction.
Company-wide transparency is key here, this solution fosters real-time collaboration among all stakeholders, on both the demand as well as supply sides. Users gain insight into all business processes and pertinent data, encompassing supply chain elements like resource capacities and financial implications. System alerts swiftly notify users of any process alterations, facilitating prompt adjustments. This integrated solution ensures unified planning, serving everyone a single source of truth.
Ab Ovo gives the strategic planner the tools to work with the latest demand forecasts and real-time inventory data so supply planning can be optimized and agreements within the S&OP team can be reached.
The ability to explore S&OP plans based on realistic forecasts, current data and finite capacity increases profitability.
Work Order Planning
Work order planning for the metal industry presents a formidable optimization challenge, stemming from multiple factors. Firstly, the input's scale can be immense, ranging from thousands of work orders and dozens of key resources at a single site to nearly 100,000 orders and hundreds of resources across multiple sites. Secondly, intricate business rules and inputs, particularly beyond the scheduling horizon, must be taken into account. These include complex campaign plans, order combinations, diverse allowable resources, alternative routes, scheduling feedback, and rapid sequential operations, vital in converter shops or melt-cast settings.
Our solution has honed its work order planning approach over two decades, refining key elements. It employs telescoping time periods, accommodating daily detail for the near future and broader input for later weeks. Operation lead times can be tailored for precision and resource focus, entered into a linear programming optimizer that concurrently plans all orders. This optimizer swiftly generates an executable plan, continuously refining toward optimality within given timeframes.
 Our solution works with prominent players in aluminum and steel production, making it reliable for orchestrating up to a very large number of operations. In such cases, the optimizer achieves near-optimal plans, ensuring exceptional delivery performance and alignment with the optimal solution.
Aiming for operational excellence
Numerous use cases for metal manufacturing in whatever category you may need support:
Schedule your individual resource, plan your raw materials, create the perfect blending in your foundry and utilize your mills as efficient as possible.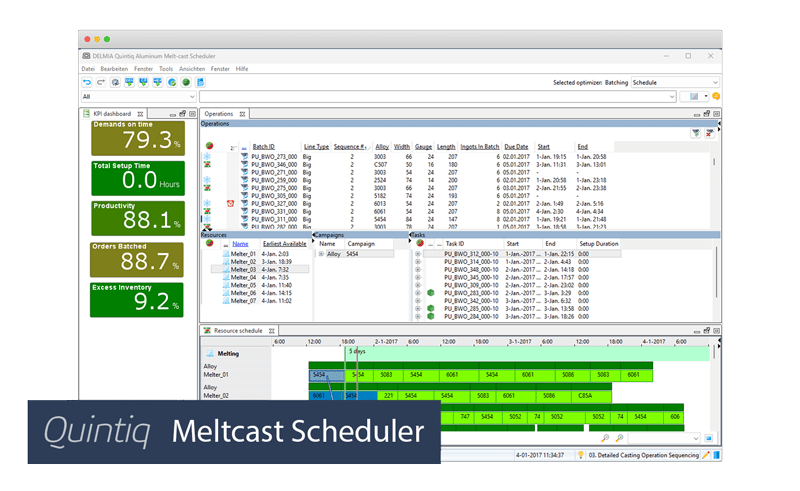 Casting Scheduler/Foundry Optimizer
The DELMIA Quintiq Casting Scheduler is a robust planning solution specifically designed for the foundry industry, engineered to optimize production and enhance efficiency. The Casting Scheduler's advanced functions and artificial intelligence enable users to perform precision planning and effectively control foundry processes while maintaining the flexibility to react quickly to production changes.
Solutions for the Metal industry
STRATEGIC PLANNING:
Demand Planner optimizes demand and sales forecasts. Macro/Supply Planner handles global, integrated planning for you, taking into account all aspects of your business – from capacity planning to sourcing strategy – and is aligned with your long-term business goals, demands and sales forecasts.
TACTICAL PLANNING:
Company Planner verifies that it is feasible to manufacture the order and reschedules existing production orders so that all orders can be manufactured. Integrated production and material planning with digital, automated order acceptance takes place. (For example, by adjusting delivery dates and transparently communicating early delivery date changes back to the customer.)
OPERATIONAL PLANNING:
Scheduler handles concrete plant scheduling with "Sequence Optimization" to optimize your production processes and make efficient use of resources. The Blending Solution calculates the complex composition of your batches in the foundry using a sophisticated optimization algorithm. The Furnace Optimizer plans the optimal use of your furnaces. It allows you to consider different parameters such as furnace size, annealing time and temperature in the optimization. This enables you to create intelligent batches for the furnace and then plan an optimized sequence on the line.